I had so much fun putting together this list of children's books exploring nature. Books are a great way to spark curiosity in children and teach them about the great outdoors.
The following books are best for children ages 3 – 8. Some of the books tell a story while others are reference books that aim to introduce kids to different plants and animals. Many combine aspects of both.
If you have any book recommendations, please leave them in the comments section. Together we can help put together a resource for parents, guardians, and teachers. Also, check out my post recommending science and nature podcasts for kids!
OUTDOOR ADVENTURE BOOKS
A Walk on the Tundra
Written by Rebecca Hainnu and Anna Ziegler and illustrated by Qin Leng
Bored one day, Inuujaq follows her grandmother on a tundra walk where she discovers the fascinating world of edible plants. This is a fantastic book for introducing kids to foraging and Inuit life and culture. The book contains a glossary of the plants discussed in the story and Inuktituk words and phrases.
"Every plant is special!" Silaaq says happily. "Some are medicine and others are teas, food, tools, building materials, and even chewing gum. Some plants help us predict the weather and guide our direction on the land."
Owl Moon
Written by Jane Yolen and illustrated by John Schoenherr
On a cold winter's night, a young girl and her father go owling. Their silent journey sparks the child's imagination. While our young protagonist anticipates seeing an owl, she's more excited to share this experience with her father.
If you go owling you have to be quiet, that's what Pa always says. I had been waiting to go owling with Pa for a long, long time.
Fishing with Grandma
Written by Susan Avingaq and Maren Vsetulla and illustrated by Charlene Chua
A brother and sister go on an ice fishing adventure with their anaanatsiaq (grandmother). Their adventure includes driving an atv, making bannock, testing the ice, drilling a fishing hole, and making a traditional Inuit jigging rod.
"What will we do with our catch, Anaanatsiaq?" Jeela asked. "There are many people who are not able to come out to the lakes. We will deliver fish to them," she replied. "It is always important to think of others."
Finding Wild
Written by Megan Wagner Lloyd and illustrated by Abigail Halpin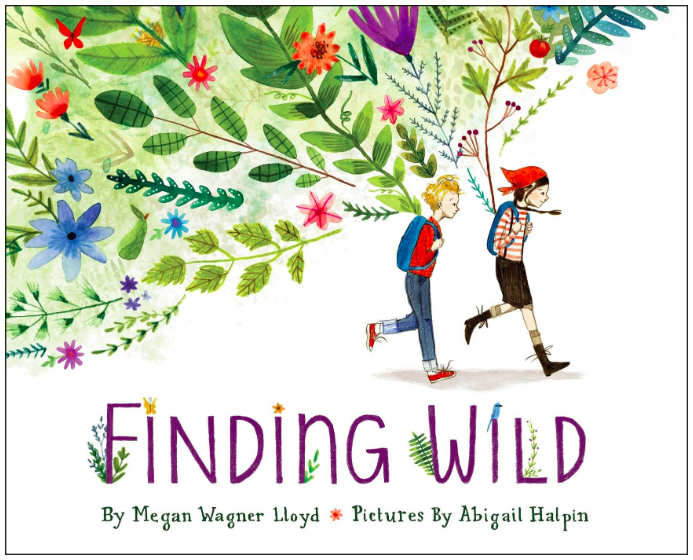 Two children leave their urban home on a quest to find the wild. Their adventure leads them to discover that the wild world is closer than they ever imagined.
Wild keeps many secrets waiting to be discovered – like its candy, honey from bees and sap from trees, swift-melting snowflakes and juice-bursting blackberries.
WILDLIFE BOOKS
Animal Journal: Marine Animals of the World
Written and illustrated by Juan Carlos Alonso
This journal-style non-fiction documents marine animals throughout the world. It's packed with interesting facts about killer whales, sea lions, dolphins, sea turtles, sharks, and other marine life. The images in this book are stunning.
Killer whales, also called orcas, are the undisputed apex predator in all oceans. Even though they are named whales, they are actually a part of the dolphin family. They are even known to hunt and eat great white sharks.
The Big Book of Bugs
Written and illustrated by Yuval Zommer
This book encourages kids to get outside and discover the world of bugs. They will learn how caterpillars transform, why bees buzz, how different insects feed, and many other fascinating insect facts. The Big Book of Bugs is part of a larger series that includes The Big Book of Blue and The Big Book of Birds.
You are a giant to a teeny bug! In a bug's world, a flower is as tall as a tree and a rock is as high as a mountain.
Red Alert: 15 Endangered Animals Fighting to Survive
Written by Catherine Barr and illustrated by Anne Wilson
Red Alert! helps kids understand endangered species and what can be done to help them survive. The title of the book is a play on the IUCN's Red List Database. Kids will learn about the database and about some of the animals on the list.
The blue whale swims in oceans all round the world, except the arctic. Its song is louder than a jet plane. It has the biggest babies on Earth and its arteries are so big that a toddler could crawl along them.
ECOSYSTEM BOOKS
Over and Under the Pond
Written by Kate Messner and illustrated by Christopher Silas Neal
A mother and child paddle a small boat across a pond. The child is curious about what mysteries hide beneath the water. Through this story, kids learn how the whole ecosystem is interconnected. The book is beautifully illustrated and part of a larger series which includes Over and Under the Snow and Up in the Garden and Down in the Dirt.
"Under the pond is a whole hidden world of minnows and crayfish, turtles and bullfrogs. We're paddling over them now."
Nature Anatomy: The Curious Parts and Pieces of the Natural World
Written and illustrated by Julia Rothman
Adults seem to enjoy this book as much as children. In it, we learn about plants, animals, geology, and the atmosphere. I'm excited that Rothman is putting out a companion journal for this book. It's called Nature Anatomy Notebook: A Place to Track and Draw Your Daily Observations and it will be released soon.

All parts of the natural world are intimately connected. Small changes to any part of the ecosystem can have profound effects on the health and biodiversity of an entire region.
When the Whales Walked: And Other Incredible Evolutionary Journeys
Written by Dougal Dixon and illustrated by Hannah Bailey
When the Whales Walked is an introduction to evolutionary science for kids. They will be shocked that snakes used to have feet, that many birds were huge, and elephants were tiny!
Something strange happened about 540 million years ago. Hard shells suddenly evolved. This might not sound all that impressive, but it had a big impact. Before this, animal life consisted of soft squidgy things, built like little pillows with flexible outer coverings and squashy organs inside.
Here We Are: Notes for Living on Planet Earth
Written and illustrated by Oliver Jeffers
Here We Are is a book meant to be read to a young child that who has found their way into this big and confusing world. It introduces the planet, the landscape, plants, animals, and people in a simple and lighthearted story.
Well, hello. Welcome to this planet. We call it Earth. It is the big globe, floating in space, on which we live. We're glad you found us as space is very big.
PLANT BOOKS
Explorer: Plants!
By Nick Forshaw and William Exley
Follow Agent Osprey who is sent on an adventure by Explorer HQ. This time, Osprey is tasked with reporting back about plants, their origins, survival strategies, fruits and flowers, and relationship with humans.
Calling Agent Osprey! You must once again venture into the unknown. Exporer HQ needs a report on plants ASAP! Go out and examine every flower and tree you can see.
The Magic and Mystery of Trees
Written by Jen Green and illustrated by Claire McElfatrick
There are lots of lessons about trees in this book. It reminds me of Peter Wohlleben's The Hidden Life of Trees but for children. It touches on many of the same themes including tree communities, defense systems, communication, and sense of time.
You've never seen a tree eat a bowl of noodles or a peanut butter sandwich, so what do they eat? As long as it has sunlight, water, and a gas called carbon dioxide, a tree can live, grow, and even make its own food! The amazing food-making process of plants is called photosynthesis.
It Starts with A Seed
Written by Laura Knowles and illustrated by Jennie Webber
Children watch as a seed grows into a giant tree and how that tree changes through the seasons. They are also introduced to some of the animals that benefit from the presence of the tree including rabbits, butterflies, and owls.
To a root, to a shoot, to a few tiny leaves.
The Tree Lady: The True Story of How One Tree-Loving Woman Changed a City Forever
Written by Joseph Hopkins and illustrated by Jill McElmurry
The true and inspiring story of Kate Sessions told for kids. Sessions was the first woman to graduate with a Bachelor of Science from the University of California, Berkeley. She established a nursery to pursue her passion for plants. Eventually, she led an effort to plant thousands of trees throughout San Diego which helped to transform the landscape.
Kate felt the trees were her friends. She loved the way they reached toward the sky and how their branches stretched wide to catch the light. Trees seemed to Kate like giant umbrellas that sheltered her and the animals, birds, and plants that lived in the forest.